Chamberlains 5 new high-tech smart garage door openers: B6753T vs B4643T vs B6713T vs B4613T vs B4603T. Let's make a short review and compare each other. What features do they bring and how good are they?
Table of Contents
We are presenting a new line of residential garage door openers from Chamberlain. Look for more details about each new Chamberlain garage door opener.
Let's begin.
Features you'll get with these new garage door openers
A new line of Chamberlains garage door openers is bringing some new smart features and improvements in general. Comparing them to previous garage door openers, each model has some extra convenience, a new design, and better residential usage.
When speaking about B6753T vs B4643T vs B6713T vs B4613T vs B4603T comparison, it doesn't necessarily mean that we are going to compare each model with another one. This comparison is meant to walk you through the whole Newline, that you get know these new garage door openers.
I have also reviewed the B6765 B4545 B1381 Chamberlain garage door openers.
What company says? Well, Chamberlain Group is a leading garage door opener manufacturer in the U.S. and they are proven choice ower whole these years. We are all expecting that the new product line continues to follow that proven pathway.
You may also find Chamberlain in my best wall mount garage door opener on the market guide.
Chamberlain B4603T, B4643T, B4613T, B6713T, B6753T Installation
Take a look at this video to see how to install Chamberlain B4613T on your own. In this video, you'll see all the steps needed for easy garage door opener installation and making it ready for use.
Install process can be applied for other new Chamberlain models as well. Find out how to install Chamberlain B4613T belt drive Garage Door Opener.
Chamberlain's NEW model B4613T garage door opener has everything one would need. It comes with a battery backup. Open and close the garage door even when power is out. It also has built-in Wi-Fi so you can operate the system via smartphone. We like the fact this unit has integrated LED lighting. Up to 1000 lumens that can brighten any garage!
Each unit (B6753T, B4643T, B6713T, B4613T, B4603T) works with Amazon Key. Get your Amazon packages and groceries conveniently delivered in your garage with secure In-Garage Delivery.
Chamberlain B6753T
Chamberlains B6753T garage door opener has a Secure View Camera attached, Ultra-Quiet operation, integrated Wi-Fi, and a Battery backup system.
Check out our full review of the Chamberlain B6753T
With its built-in camera providing a 140° wide-angle range you'll see what's happening in your garage the whole time by using the myQ app.
Smartphone control monitors the garage with the myQ app at any time, from anywhere. With an integrated Corner to Corner LED lighting, every corner of the garage is accessible and easy to watch. LEDs work together with a motion-activated technology, delivering 2,000 lumens.
Quiet operation is guaranteed with an ultra-quiet DC motor and belt drive system that ensures comfortable living spaces near the garage.
Open/close and operate your garage door even when the power is out with the Battery Backup system that comes with this unit.
BILT is a specially provided 3D instruction set meant to gain a quick, and easy Chamberlain B6753T installation.
Chamberlain B4603T
This unit comes with a wireless keypad and some other interesting features. Let's see what you'll get after purchasing a new Chamberlains garage door opener, model B4603T.
Just like the other four units, you'll get a whole smartphone control. With a Chamberlain B4603T, you'll get control, security, and monitor the garage by using the myQ app.
Integrated advanced LED lighting with a motion-activated system delivers brightness in high traffic areas of the garage. The total output is 1,000 lumens.
Chamberlain B4603T has an ultra-quiet DC motor and belt drive system that ensures comfort in a living space near the garage.
Next-generation garage technology has improved Wi-Fi connectivity and enhanced memory to support all the new myQ features. Besides that, an Integrated Bluetooth technology reduces setup time and makes it even easier to connect this unit to the myQ app.
With BILT intelligent instructions, you're able to quickly and easily install a new garage door opener.
Chamberlain B6713T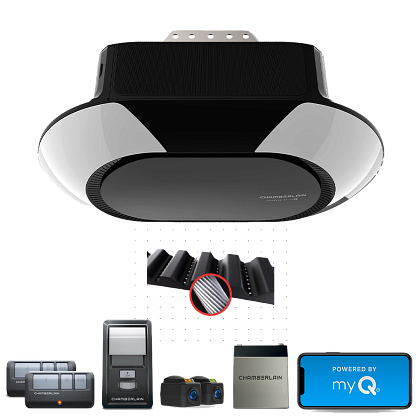 Control, protect and monitor your garage using the myQ app at any time, from any location with the new Chamberlain B6713T.
It offers an Integrated Corner to Corner(tm) LED lighting: uniformly brightens each area of your garage, motion-activated with 2500 lumens.
The Chamberlain B6713T also has a Battery Backup Garage Door: that Open/close even when the power is off.
Integrated Bluetooth technology: Cuts down time for setting up and makes it simpler to connect to the myQ app, as well as other myQ devices, and intelligent home technologies.