It seems you have been scrolling forever, scanning, frowning, and grunting at so many choices in front of you, thinking: I just want a decent garage door opener. Dearest reader, look no further. Actually, do look further, because that is where I start my LiftMaster 84602 Garage Door Opener review. 
Table of Contents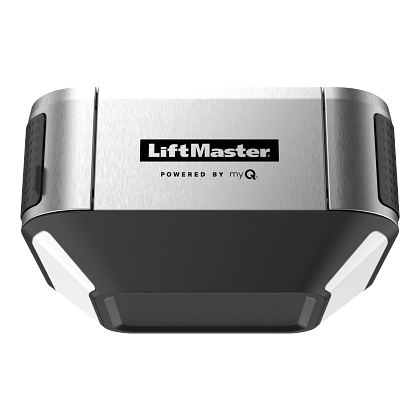 Check this garage door opener model on the LiftMaster website.
Price: What Is It Worth, Really? 
The LiftMaster model 84602 comes with a lot of spectacular features. However, as the budget comes first, let me clear up the Liftmaster 84602 price. Starting from $353.54, the LiftMaster 84602 cost is pretty reasonable. Along with the device, if you want to add a LiftMaster 050DCTB Replacement Logic Board (for future use and regulation), that weighs another a hundred and fifteen dollars and thirty cents to your hopefully bulky wallet.
Another side dish, if I may, is the LiftMaster 821LMC-s Smart Garage Control — $58.26, to be specific. Not only this, but they also offer you to add specific locks, such as the Yale LiftMaster Smart Touchscreen Deadbolt Lock and Yale Liftmaster Smart Keypad Lever Lock (both, which come with Satin Nickel and Oil-Rubbed Bronze), adding to another hundred, two hundred bucks to your pay-out cheque.
Of course, there are instalment offers (for example you can pay four interest-free instalments of eighty-eighty dollars with ShopPay), but you have to tread lightly. Yes, the product is brilliant, stupidly, outrageously efficient and trustworthy, but you have to check (and, personally saying, re-check) your budget options.
An Overview For You
Now, considering your options, you ask, "Hmm. What does LiftMaster model 84602 have that I don't?" Here it goes. It has got Dual LED lightning and a battery backup (something you would distinguish from its predecessors) is included in this smart garage door opener. With the myQ application, you can control, protect, and monitor your garage from anywhere, at any time — say you are shopping at Walmart, and it struck you: did I close the garage door. Fish out your phone from the depth of your pocket and open the myQ app, and you will know for sure if you have not. If you have not — well, Walmart's got to wait.
For stable, long-lasting performance, a powerful chain drive is used in the LiftMaster 84602 system. It works with Amazon key to deliver Amazon parcels and groceries in a simple and secure manner… blew your mind yet? Probably not, we live in unsurprising times
Use The Innovation To Your Advantage
With 84602 LiftMaster you can control, protect and monitor your garage with the myQ app, and share and manage access to your house without hassle and having to provide passwords or keys (we have become so lazy). Also use the myQ app to connect with trusted dealers and eliminate the burden of servicing repair, as they charge more than necessary.
Expand the garage door opener's usefulness and you'll never have to change a garage light bulb, ever again. The system's dual lighting produced fifteen hundred lumens of long-lasting LED light to illuminate the garage's high-traffic areas, so there is that.
Popular Features
I'd dive right in, here, because, to be fair, this is a review, and I have experienced these competent features first-hand. DC Motors operates with soft/start/stop and offers reliable options all through the year. The LiftMaster 84602 offers what it calls Security+ 2.0 which safeguards garage access by sending a new code with every click of the remote. Plus, if I have not stressed this application enough, myQ connection controls, secures, and monitors the garage anytime, from anywhere.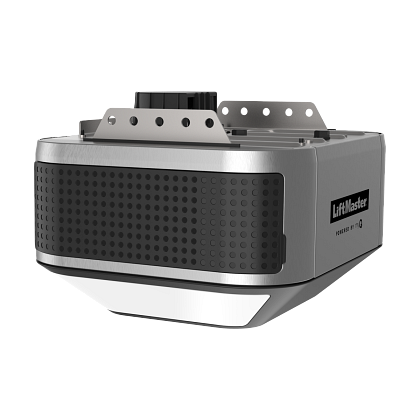 The invisible light beam system auto-reverses the garage door if there is an obstruction (such as your car trunk because you – cough – forgot how to park – cough) Plus, the battery backup ensures garage access when the power is out, so you don't have to sweat in anxiety if it comes to a car emergency. Moreover, there is the Posi Lock protection that electronically protects against any and every forced opening of the garage door. Lastly, the motion detector fitted in lights the way automatically for additional security.
Specifications of the LiftMaster 84602
The motor is a twelve Volt DC rotation per minute that includes automatic thermal protection (a warning will pop up when the device overheats). If you want to get into mechanics in detail just to be extra-extra-extra-sure here it is steel chassis, T-rail and trolly with a fully reinforced chain drive mechanism (sixty-three to one ratio of gear reduction and adjustment door arm for easy flexing); auto-forced adjustments for changing weather and environmental conditions and electronic limits for easy installation for the busy people. The DC Wi-Fi logic board has a built-in surge suppressor. As I mentioned above, you can buy a replacement logic just for precautionary measures.
Features List
What it comes with:
886LMW Motion Detecting Admin Console
893LM 3-Button Remote Control
485LM Integrated Battery Backup
Features:
Effortless operation with a high level of security.
There's even a built-in battery backup so you can get into your garage even if the power goes out.
Compliant with California Senate Bill 969
Security:
Because of myQ application, the door only opens for you
PosiLock® is an electrical lock that prevents forcible entry.
The Motion Detector activates the Garage Door Opener's lights as soon as you enter the garage and Alert-2-Close signals when a door is closed by myQ.
If there is a blockage, the Protection System® unseen light beam reverses the door.
Smartness:
Wi-Fi is built-in for the most convenient connection to the garage.
Users may close the garage from everywhere, open it for anybody, and get notifications using the myQ® Mobile App.
All Security Equipment | LiftMaster DC Chains Garage Door Operator 84602
Reliable:
DC The motor has been specifically built for silent operation.
For consistent performance and industrial robustness, use a chain drive system.
For seamless functioning, use Soft Start/Stop.
Compatible with HomeLink®
For some cars, a Compatibility BridgeTM (not supplied) is required. To check out if a Bridges is required, call (800)-730-8382. Gentex Corporation's trademark HomeLink® is a trademark.